Know in advance.

Act decisively.
The global intelligence leader
Founded in 2010, Sqope is a leading provider of enhanced due diligence reports and ESG reputational assessments that empower professionals to evaluate risk and make decisions. Our clients benefit from premium intelligence based on transparent sources produced by our team of experts. Sqope's analysts are based around the globe and have regional expertise and years of experience from various backgrounds, including military intelligence, academia, investigative journalism, and the private sector.
Sqope has offices in Luxembourg (HQ), Geneva, London, New York, and Tel Aviv. Our customers typically include private banks, family offices, life insurance companies, asset managers, VC firms, law firms, and private equity. Our products enable professionals to comply with every AML, CFT, and anti-corruption regulation by providing them with deep and ongoing knowledge of their clients, prospects, employees, investors, and business partners. We deliver results quickly and ensure full confidentiality of our clients' identities and sensitive information.
Premium due diligence is just a click away

Leverage Sqope's global intelligence expertise, unique risk methodology, ground sources, and unmatched client service with our new online ordering portal.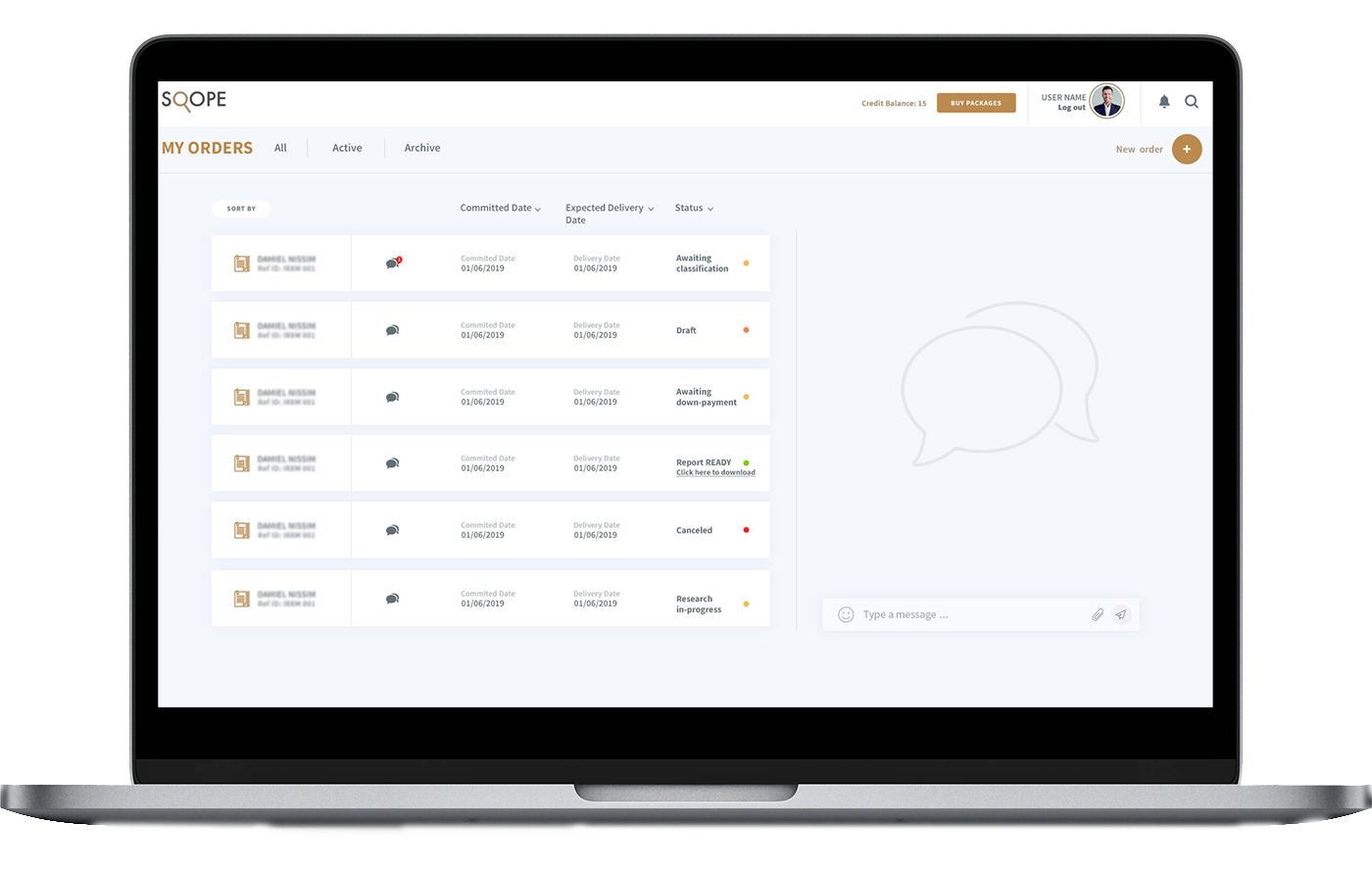 TRAINING &
WORKSHOPS
Let us share with you our unique approach to research and investigations based on over a decade of experience. Our team can tailor-make workshops according to your needs.
"The in-depth analyses that Sqope's reports provide and the clear way that they present the findings really set them apart from the competition."

– Head of Compliance –
Swiss Bank
"Sqope's findings and risk analyses uncovered serious issues of which we were unaware, concerning a potential business partner. Thanks to their report, we pursued another option that aligned better with our risk tolerance."

CEO – Multi-Family Office
Luxembourg
"Sqope's customer service is top of the line. Their responsiveness, their direct line of communication between us and their research time, willingness to answer all of our questions, and even customize reports is of tremendous value for us."

– Front Desk Manager –
Cyprus-based Asset Management Company
Sqope places the highest value on the confidentiality of its clients and the information provided to or collected by us during the course of our business. We are a Luxembourg headquartered company and our operations are subject to Luxembourg professional secrecy law, data protection, and personal privacy regulations.
In particular, Sqope acknowledges that processing of personal data is subject to Regulation 2016/679 (EU) of the European Parliament and of the Council of 27 April 2016 on the protection of natural persons with regard to the processing of personal data and on the free movement of such data (GDPR), as well as to the Swiss Data Protection Act, and the UK's Data Protection Privacy and Electronic Communications Act. We thus process all personal data in compliance with the GDPR and any other relevant regulation.
We place the utmost importance on safeguarding your data, including the identity of your clients, throughout the research and transmission processes. Our reports and research materials, including sources and primary materials, are stored on encrypted media and transmitted from computer to computer over encrypted and secure communication lines. In conducting research, we take the utmost care to avoid leaving electronic traces that could indicate the identity of a subject under investigation. In accordance with the GDPR and the processing of personal data, you have the right to access, rectify, or delete your personal data; if you wish to exercise any of these rights, please contact us at info@sqopeintelligence.com.
Personal data collected will be processed in a secure manner for the sole purpose of adequately responding to your request.